I text a lot. In texting, lots of acronyms are used, and now-a-days, most of them came from teh interwebs. However, I know some predate the interbutt, and I was just wondering how xoxo came to mean "hugs and kisses."
I'm not totally convinced with what I've found, but I keep coming across the same answer more or less:
First of all, is the O the hug or the kiss? I always thought the X was the kiss--on some level related to XXX or movies being X-rated. I think I also thought the O just looked like a hug... Some people seem to think the X looks like a top-down view of two mouths puckered up, kissing. I had never thought of that.
What sounds most right to me is:

The use of XOXO goes back to the use of an X or cross, which was considered as good as a sworn oath in times before most people could write and therefore used the X in the same way a signature is used today — a mark of one's word. An X at the end of a letter or document was often kissed as a seal of honesty, in much the same way one would kiss a Bible or kiss the fingers after making the sign of the Christian cross. Thus the X came to represent a kiss in modern times.

No one really seems to know about the O.

...ok. Back to things being X-rated. A lot of theories out there on this, too.
It could be an extension of the kiss-implying-X
X has long been an abbreviated form of the word "ecstasy."*
I like this one best:
Amsterdam has long been associated with pornography. Check out the flag of Amsterdam (these are three St. Andrew's Crosses said to represent Valor, Resolution and Mercy):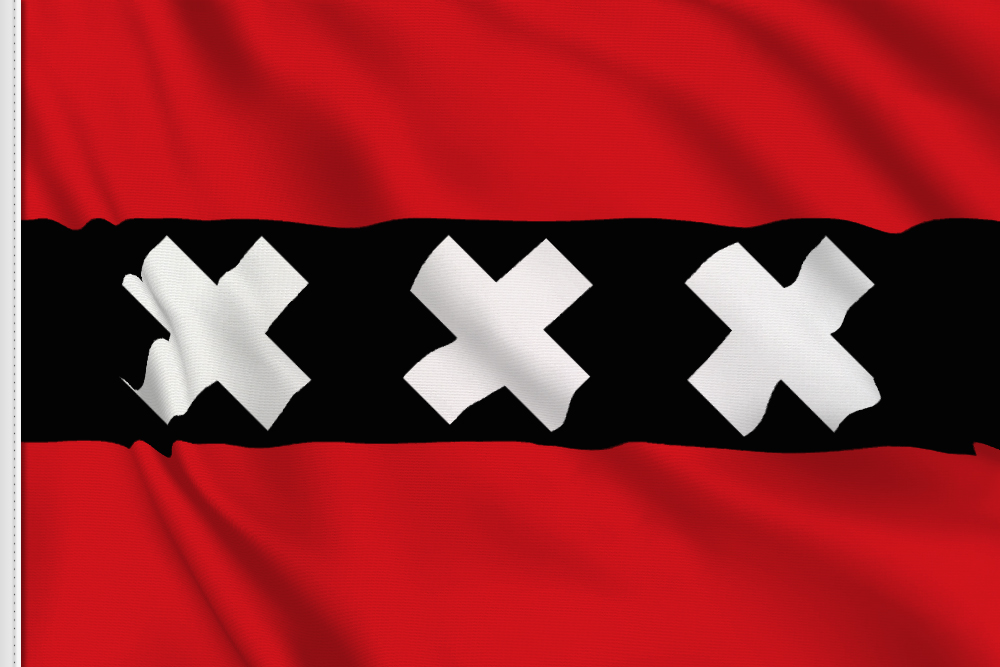 Granted, this has only been the official flag of Amsterdam since 1975, but the one used before it (and since the 1600s)
* Middle English extasie, from Old French, from Late Latin extasis, terror, from Greek ekstasis, astonishment, distraction, from existanai, to displace, derange : ek-, out of; see ecto- + histanai, to place
--
As far as XXX-rated beer, Brewer's Dictionary of Phrase & Fable says, "X on beer casks formerly indicated beer which had paid the old 10s. duty, and hence came to mean beer of a given quality. Two or three crosses are mere trademarks intended to convey an impression of its extra strength."
--
Also, I found this list which is pretty interesting. I'll do my best to never let my blog become just this, though. Jajaja.